REGIONAL PLANNING
Colorado Coordinated Planning Group (CCPG)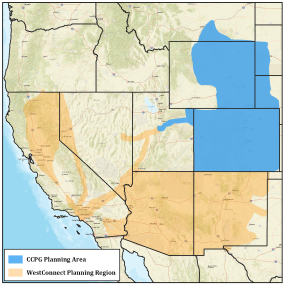 The Colorado Coordinated Planning Group (CCPG) is a joint, high voltage transmission system planning forum. The purpose is to assure a high degree of reliability in the planning, development and operation of the high voltage transmission system in the Rocky Mountain Region. This is in accordance with the Joint Transmission Access Principles and the Electric Transmission Service Policy Statement, dated Dec. 16, 1991.

The CCPG provides the technical forum required to complete reliability assessments, develop joint business opportunities and accomplish coordinated planning under the single-system planning concept in the Rocky Mountain Region of the Western Electricity Coordinating Council.


Colorado Coordinated Planning Group Officers
Chair: Lindsay Briggs, Black Hills Corporation Association, Inc.
Vice Chair: Stacey Kohler, WAPA
Secretary: Ryan Hubbard, Tri-State Generation & Transmission Association, Inc.
CCPG Organizational Chart (.pdf)
Colorado Coordinated Planning Group Members
Basin Electric Power Cooperative
Black Hills Cooperation
Colorado Springs Utilities
Deseret Power
PacifiCorp
Platte River Power Authority
Tri-State Generation and Transmission Association, Inc.
Western Area Power Administration
Xcel Energy - Public Service Company of Colorado
CCPG Subcommittees, Work Groups, Task Forces and Projects


Subcommittees
DEEP
Foothills
Northeast Colorado
San Luis Valley
Southeast Wyoming
Western Slope
WY/SD Common Use
Work Groups
3627 Compliance
Base Case Coordination
Conceptual Planning
Energy Storage
Model Validation
Short Circuit Data Base
TPL Studies
Voltage Coordination
Task Forces
DC Tie Expansion
Midway-Poncha Task Force
NxNW
Responsible Energy Plan

Colorado Planning
Rule 3627
Senate Bill 100 Colorado

Projects