REGIONAL PLANNING
CCPG Foothills Subcommittee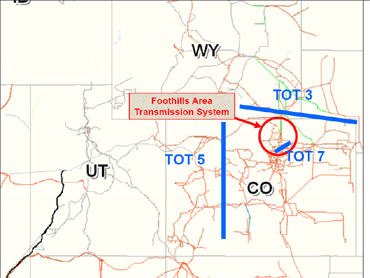 Foothills was formed in 1980 by Platte River, Public Service, Tri-State, and Western to coordinate planning studies and transmission system engineering activities focused specifically on the interconnected transmission system in the northern Front Range area of Colorado.

The Foothills area generally includes the transmission system north of Denver, bounded by Cheyenne in the north, Greeley in the east, Brighton in the south, and Estes Park in the west.

Foothills members voluntarily contribute time and efforts of their operations and planning engineers to perform transmission studies, develop operating procedures, coordinate transmission plans and seek opportunities for joint projects.

The Foothills transmission system is a load-serving system which operates with a net import and with through-flows from Ault to Denver on the TOT 7 path.
Foothills Subcommittee Chair
Chair: Jeremy Brownrigg, Platte River Power Authority
CCPG Subcommittees, Work Groups, Task Forces and Projects
Subcommittees
3627 Compliance Subcommittee
DEEP Subcommittee
Foothills Subcommittee
Northeast Colorado Subcommittee
San Luis Valley Subcommittee
Southeast Wyoming
Western Slope
WY/SD Common Use
Work Groups
Base Case Coordination
Conceptual Planning
LRPG
Short Circuit Data Base
TPL Studies
Voltage Coordination
Task Forces
Colorado Energy Plan
Lamar – Front Range
Rush Creek
Colorado Planning
Rule 3627
Senate Bill 100 Colorado

Projects
Lamar – Front Range - 2013
Weld County Expansion
Foothills Calendar Events
No Meetings Scheduled
Key Links
Supporting Documentation