REGIONAL PLANNING
Southwest Area Transmission (SWAT)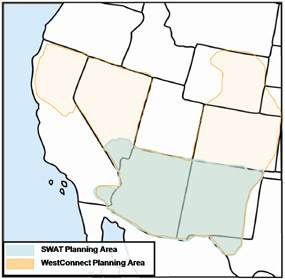 Southwest Area Transmission (SWAT) is comprised of transmission regulators/governmental entities, transmission users, transmission owners, transmission operators and environmental entities.

The goal of SWAT is to promote regional planning in the Desert Southwest. The SWAT regional planning group includes transmission planning subcommittees, which are overseen by the SWAT Oversight Committee. SWAT is governed by the SWAT Charter.

The overview of the SWAT organization chart is displayed below.

Southwest Area Transmission Group Chairpersons
Chair: Zak Baumann, Salt River Project
Vice Chair: Chris Fecke-Stoudt, APS